Dr. Argent is currently a professor at California Univ. of Pennsylvania where he performs a variety of fisheries related research and teaches various courses in support of the Bachelor's program with a concentration in Fisheries and Wildlife Sciences. He currently advises the California University Student Sub-unit of the PA AFS Chapter. Dr. Argent is a past President and past Ex Comm member of the PA Chapter. At the Parent society level, Dr. Argent served as the Symposia Program co-Chair for the national AFS meeting held in Pittsburgh in 2010 and as the Northeast Education Committee representative (2010-2012). Presently he serves as a member of the Professional Certification Committee. Dr. Argent is also a life member of the American                                                                              Fisheries Society and can't think of anything else he'd rather do than learn                                                                            about fish.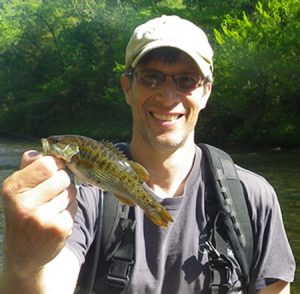 President Elect: Gregory Moyer, PhD
Over the past 20 years, Greg has accrued a wide array of experiences in the fields of fisheries, aquaculture, and aquatic sciences.  His BS degree is in Fisheries Biology from Mansfield University. He also earned a MS and PhD from Southern Illinois University at Carbondale.  From there, he kept travelling west having the opportunity, as a post-doctoral researcher, to study water rights issues of endangered Silvery minnow at the University of New Mexico and hatchery wild interactions of endangered Coho salmon at Oregon State University. Before becoming an Assistant Professor at Mansfield University, Greg was the Director of a conservation genetics lab for the United States Fish and Wildlife Service. Recently, he has come full circle to lead the Fisheries program at Mansfield University where he will                                                                              have the opportunity to pass on many of the experiences he has accrued                                                                              over the years to the next generation of fisheries and aquatic scientists.                                                                                When not teaching, Greg enjoys time outdoors with his wife and three kids                                                                            either fishing, backpacking or biking.
Sara is a graduate of The Pennsylvania State University with both an undergraduate (Schreyer Honors College, 2014) and Masters degree (2016) in Wildlife and Fisheries Sciences. She will begin her PhD this fall working with Brook Trout in Pennsylvania. Sara's past research has focused on aquatic ecology ranging from community interactions with invasive species to metabarcoding eDNA samples for aquatic organisms. Through her work, she advocates for the integration of knowledge between aquatic and terrestrial ecosystems; and encourages collaboration and cooperation across respective disciplines. Outside of academics, Sara enjoys teaching hunter education courses, hiking and camping with her dog, and nature photography.
Tim currently serves as a Water Pollution Biologist for the Pennsylvania Department of Environmental Protection (DEP), where he focuses on biological assessments using fish communities. Prior to this, Tim worked as a Mining Conservation Inspector for DEP and as a seasonal employee with the PA Fish and Boat Commission's Division of Environmental Services.  Tim holds a degree in Wildlife and Fisheries Science from Penn State University and can be found hunting and fishing when he's not working on house projects.
Aaron is an AFS Certified Fisheries Professional, 2007 graduate of Penn State and currently works as an aquatic biologist for the Susquehanna River Basin Commission. There he manages multiple fisheries projects including American eel re-introduction, smallmouth bass monitoring and SRBC's large river assessment project. He serves as the agency's fisheries lead and taxonomist for EPA's national surveys and holds positions on technical advisory committees for smallmouth bass and migratory fish restoration. Areas of interest include rare, threatened and endangered species, hydroelectric/energy development, nonnative fish distributions and crossing political boundaries to study fish. He has worked in every major drainage in the Commonwealth and frequently collaborates with and supports fellow resource agencies' fisheries-related projects. Outside of work Aaron spends the summers kayaking Swatara Creek                                                                                   and winters snowmobiling the mountains of Pennsylvania. Aaron grew                                                                                   up in rural northeastern Pennsylvania and currently resides in                                                                                               Harrisburg with his wife and son.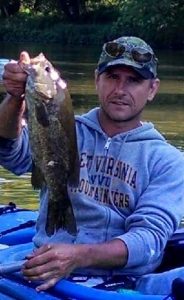 Excomm Member:  George Merovich, PhD 
Geroge has been teaching and conducting research in fisheries and aquatic sciences fields for almost 20 years. After receiving a BS in Wildlife and Fisheries Sciences from The University of Arizona and an MS in Applied Ecology and Conservation Biology from Frostburg State University, He taught in the biology department at Western Michigan University for 4 years. After that, George attended West Virginia University where he completed a PhD in Forest Resources Sciences (Wildlife and Fisheries Program) working on the aquatic ecology of coal-mined Appalachian watersheds. After a post-doctoral position from 2007-2008, He joined the faculty at WVU as an assistant professor until 2015. Currently, George is an associate professor in the Environmental Science Department at Juniata College where he directs the Fisheries and Aquatic Sciences program. When not teaching or running statistics for research, George enjoys archery hunting, taking the kids (Emily, Tad, and Melody) bluegill fishing, and growing all kinds of hot peppers in the vegetable garden, among other outdoor activities.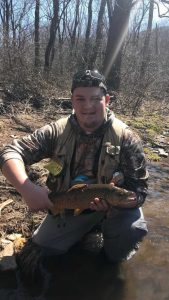 Student Representative: Dustin Zettle
Dustin Zettle is a junior at Lock Haven University majoring in Biology with a minor in Environmental Studies. He grew up along Penns Creek in Central Pennsylvania which helped spark his interest in the several disciplines within the environmental sciences field including watershed ecology, ecosystem restoration and fish biology. After graduating from Lock Haven, Dustin wants to obtain a MS degree in Aquatic Biology or a related field. When not in class, he enjoys being outdoors, fishing, kayaking, hunting, mushroom picking, and traveling.