For a list of officers (1968-present) Click here
Current officers
President:  George Merovich, PhD 
George has been teaching and conducting research in fisheries and aquatic sciences fields for almost 20 years. After receiving a BS in Wildlife and Fisheries Sciences from The University of Arizona and an MS in Applied Ecology and Conservation Biology from Frostburg State University, He taught in the biology department at Western Michiga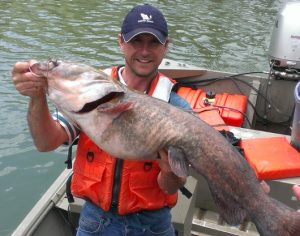 n University for 4 years. After that, George attended West Virginia University where he completed a PhD in Forest Resources Sciences (Wildlife and Fisheries Program) working on the aquatic ecology of coal-mined Appalachian watersheds. After a post-doctoral position from 2007-2008, He joined the faculty at WVU as an assistant professor until 2015. Currently, George is an associate professor in the Environmental Science Department at Juniata College where he directs the Fisheries and Aquatic Sciences program. When not teaching or running statistics for research, George enjoys archery hunting, taking the kids (Emily, Tad, and Melody) bluegill fishing, and growing all kinds of hot peppers in the vegetable garden, among other outdoor activities.
President elect:  Adam Slowik
A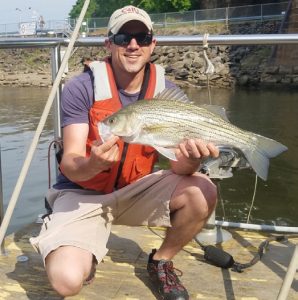 dam is a fisheries biologist currently employed with Normandeau Associates Inc. He received his BS in wildlife and fisheries biology from California University of Pennsylvania. While with Normandeau he has performed turbine injury and survival research with many different Salmonidae Species in the Pacific Northwest. Currently, Adam performs research on much of the lower Susquehanna River and its tributaries. Most of the fisheries research he performs is very diverse and broad; however, Adam specializes in bio-telemetry. He utilizes PIT, radio, and acoustic-telemetry to perform large scale fish passage projects with anadromous and catadromous fish es. Locally, he aides and assists several key stakeholders along the Susquehanna River in River Herring restoration, American Silver Eel re-introduction, and bio-monitoring. In his spare time he enjoys hunting and teaching his daughter how to fish.
Secretar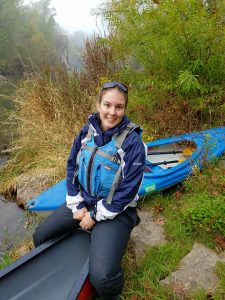 y / treasurer: Sara J. Mueller
Sara is a graduate of The Pennsylvania State University with both an undergraduate (Schreyer Honors College, 2014) and Masters degree (2016) in Wildlife and Fisheries Sciences. She will begin her PhD this fall working with Brook Trout in Pennsylvania. Sara's past research has focused on aquatic ecology ranging from community interactions with invasive species to metabarcoding eDNA samples for aquatic organisms. Through her work, she advocates for the integration of knowledge between aquatic and terrestrial ecosystems; and encourages collaboration and cooperation across respective disciplines. Outside of academics, Sara enjoys teaching hunter education courses, hiking and camping with her dog, and nature photography.
Executive Committee Member: Matt Shank

Matt is a Certified Fisheries Professional that has served in various roles throughout environmental agencies in Pennsylvania. Matt is currently employed as a Water Program Specialist at the Pennsylvania Department of Environmental Protection, where he develops methods, biological indices, and analyzes data to inform management and restoration.
He holds a B.S. degree (2008) in Environmental Studies from Gettysburg College and a M.S. degree (2013) in Fisheries Science from Penn State University. Matt serves on the Mid-Atlantic Panel on Aquatic Invasive Species and is currently an Executive Committee member of PA AFS. He has given numerous presentations at local, regional, and national conferences and has authored several peer-reviewed publications on freshwater ecology issues including invasive species and the effects of water withdrawals.
Matt's primary responsibilities at DEP include leveraging large datasets to answer complex environmental questions. His current research includes investigating the physicochemical conditions in headwater streams impacted by acid deposition and the implications for biological communities. Matt is also using historic water chemistry datasets to contextualize present-day conditions, with a focus on mine drainage pollution and freshwater salinization.
In his free-time, Matt enjoys catching large trout on small flies, hunting, and taking photographs in Penn's woods. He resides with his wife, three kids, and beagle in the Kishacoquillas Creek watershed in central Pennsylvania.
Executive Committee Member: Tyler Grabowski
Tyler is currently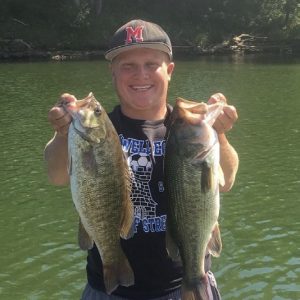 a Fisheries Biologist with the Pennsylvania Fish and Boat Commission in Fisheries Management Area 6 (Southeastern Pennsylvania). He received his BS in Biology with a concentration in Fisheries from Mansfield University and then went on to work as a Graduate Research Assistant at the University of Illinois apart of the Wahl Lab with Illinois Natural History Survey. His graduate work focused on how climactic process and changes may influence fisheries, namely warm-water reservoirs. Fortunately, as Tyler was finishing up his thesis, a position opened in his home region at the PFBC and he was able begin his career at the PFBC earlier than expected. Presently at the Pennsylvania Fish and Boat Commission, Tyler serves as the principal biologist for Pennsylvania's Striped Bass Spawning Stock Assessment in the Delaware Estuary along with many other diverse roles assisting on both lotic and lentic surveys on inland fisheries management. In his free time, Tyler enjoys fishing, primarily in bass tournaments, along with gardening.
Student Repr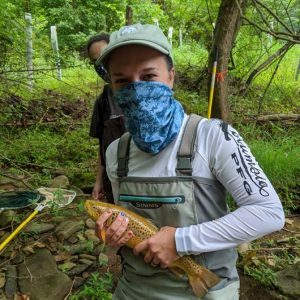 esentative: Emily Bierer
Emily is a graduate of Hiram College (2015) and Miami University (2017) with both an undergraduate and Masters degree in Biological Sciences with and emphasis on education. She is starting her PhD at Duquesne University in the fall with the intention to work with the coloration of darters in Pennsylvania. Emily's past research has focused on water quality and species diversity in aquatic environments. Outside of academics, Emily enjoys hiking, swimming, nature photography, playing with her dog and educating the public about science!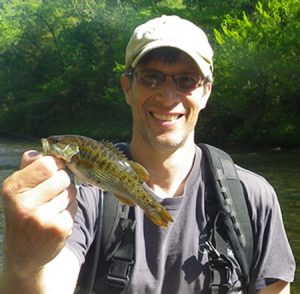 Past President: Gregory Moyer, PhD
Over the past 20 years, Greg has accrued a wide array of experiences in the fields of fisheries, aquaculture, and aquatic sciences.  His BS degree is in Fisheries Biology from Mansfield University. He also earned a MS and PhD from Southern Illinois University at Carbondale.  From there, he kept travelling west having the opportunity, as a post-doctoral researcher, to study water rights issues of endangered Silvery Minnow at the University of New Mexico and hatchery wild interactions of endangered Coho Salmon at Oregon State University. Before becoming an Assistant Professor at Mansfield University, Greg was the Director of a conservation genetics lab for the United States Fish and Wildlife Service. Recently, he has come full circle to lead the Fisheries program at Mansfield University where he will have the opportunity to pass on many of the experiences he has accrued over the years to the next generation of fisheries and aquatic scientists. When not teaching, Greg enjoys time outdoors with his wife and three kids either fishing, backpacking or biking.