12/8/2014 – From Sea Grant Alaska:
Call for Abstracts:
Tools and Strategies for Assessment and Management of Data-Limited Fish Stocks -30th Lowell Wakefield Fisheries Symposium – Hotel Captain Cook – Anchorage, Alaska – May 12–15, 2015  
Find out more >>>
---
Pennsylvania Chapter featured in September edition of Fisheries! – In case you missed it, the September edition of Fisheries featured an article by Pennsylvania Chapter Executive Committee member Jordan Allison. The article detailed our new chapter website as well as the website services provided by the parent society.
---
10/19/2014 – From the CalU Subunit:
The CalU subunit is currently fundraising to assist its members attend the Mid-west Fish and Wildlife Conference in Indianapolis, IN in February 2015. As part of its efforts, the subunit is raffling a bamboo fly rod and period reel.
TO SUPPORT THE CalU American Fisheries Society
Only 100 tickets will be sold
Vintage Bamboo Fly Rod and Fly Reel
"Tonkin Cane" and JC Higgins Reel
Tickets are $10 each
Find out more here
---
9/24/2014 – From the CalU Subunit:
The CalU Subuit appoints officers:
President: Chelsea Gilliland
Vice President: Molly Byrne
Secretary: Luke Gray
Treasurer: Sarah Martin
Advisor: Dr. Argent
Please contact Dr. Argent for information regarding how you can become involved or lend expertise to the subunit.
---
Read the latest edition of the North East Fish Rapper!
---
A second 2014 Mentored Youth Fishing Day will be held on Labor Day, Sept. 1, on 17 Panfish Enhancement lakes. To encourage participation on this day, the PFBC has reduced the price of a Labor Day 1-day adult resident and Labor Day 1-day adult non-resident license to just $1 on Labor Day. With issuing agent and transaction fees, the total price for the 1-day adult license is $2.70. (Read more from our press release)
To participate in the Mentored Youth Fishing Day, anglers 16 years of age or older (adult anglers) must possess a valid Pennsylvania Fishing License and be accompanied by a youth (less than 16 years of age) who has obtained a Mentored Youth Fishing Permit or Voluntary Youth Fishing License from the Commission.
---
6/8/2014 – From the Parent Society:

Please consider donating raffle items to the 2014 Annual Meeting!  The meeting hosts are seeks items ranging from fishing tackle and lures, sampling equip, and artwork.  Due to printing deadlines, donation descriptions received after June 15th may not appear in the meeting program.   Contact Sarah Larochelle at   [email protected] or 418-649-6889 for more information.
---
5/19/2014 – From the Northeast Partners in Amphibian and Reptile Conservation:

Registration for the 2014 NEPARC Meeting is now open!  Please visit https://www.regonline.com/2014NEPARC to register for the meeting. Meeting costs are $120 early & $150 late for professionals, $100 early & $120 late for students. The early registration cutoff date is June 15th.
NEPARC is currently requesting abstracts for oral or poster presentations for the 2014 Annual meeting in Salamanca NY.  The deadline for oral presentations is: June 6, 2014and the poster abstract deadline is: July 11, 2014.
Please visit the NEPARC website for more information
If you have questions as to whether your topic is relevant to the meeting, please
contact: [email protected].
---
4/29/2014 – From the the Parent Society & Pennsylvania Chapter: Travel Awards to the 2014 Québec meeting (August 17-21):  
Pennsylvania Chapter Cooper Award – the Pennsylvania Chapter will provide a travel award to two deserving graduate and/or undergraduate students to attend the 2014 AFS annual meeting.  Find out more here.
The AFS Equal Opportunities Section is leading an effort to increase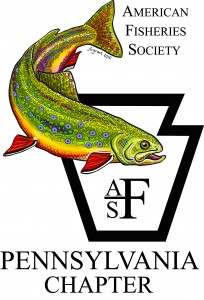 participation in the Society by graduate and undergraduate students from underrepresented groups, including women and minorities. Travel grants not to exceed $500 each will be awarded on a competitive basis to assist these students with expenses incurred when attending the annual meeting.  Contact Robin L. DeBruyne, USGS Great Lakes Science Center – 1451 Green Rd – Ann Arbor, MI 48105 [email protected] for more information
---
4/29/2014 – From the Wild Trout Symposium:  
Undergraduate and graduate student scholarships available for the Wild Trout Symposium  – September 22-25, 2014 in West Yellowstone.  Find out more here
---
4/29/2014 – From the North East Division:  

The American Fisheries Society is built on a spirit of volunteerism.  The activities of our units, including divisions, chapters and sections are run by fisheries professionals, academics, and students who put in extra time and contribute it to the Society for the betterment of our chosen field.
Please take some time to think about how you can improve fisheries communication and collaboration at the regional level by considering the following Northeastern Division AFS opportunities: (none of which are paid J).  Contact  James L. Armstrong, President Northeastern Division AFS for more information:  [email protected] / 302.526.5250
---
4/3/2014 – From the Parent Society:  
The American Fishery Society External Affairs Committee is seeking nominations for its Student Writing Contest and its Excellence in Public Outreach Award.  Nominations are due April 15th.
 For information, contact:
Cleve Steward
Chair, AFS External Affairs Committee
Phone: 206-719-1260
---
3/25/2014 – Updates from the Chapter: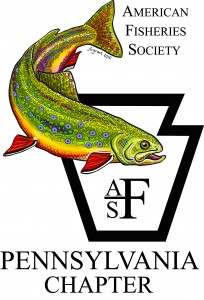 Join your friends and colleagues of the American Fisheries Society Pennsylvania Chapter on April 25, 2014 after the spring workshop for our spring technical meeting.  The agenda and synopsis of invited presentations is attached to this email.  Additional information can be found on the Pennsylvania AFS website.
This FREE event includes pizza!   Overnight accommodations and Saturday fishing trip information can be obtained from Executive Committee Jordan Allison (570-337-5971 and/or [email protected]).
Kindly RSVP to [email protected] so that we can ensure that we have enough food and drinks.
---
3/16/2014 – Updates from the Chapter: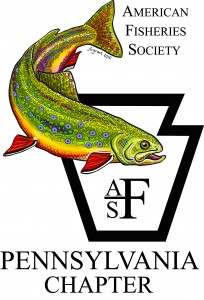 2014 / 2015 Executive Committee Elections:  Last Call For Nominees!  Nominations are due no later than April 1st, 2014.  Positions available include Secretary / Treasurer, President Elect, Executive Committee Member, and Student Representative.  Please see section 3 of the chapter by-laws for officer responsibilities.  If you are interested in running for a position or have questions about officer responsibilities, contact us at [email protected] or alternatively contact Brian Ensign at [email protected].  Election results will be announced at the 2014 Spring Technical Meeting.
---
3/10/2014 – Updates from the Chapter: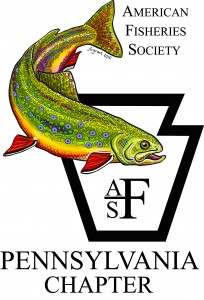 There are only 10 spaces left for the upcoming spring technical workshop!  Thanks to an outstanding response to this workshop, we expect registration to be closed prior to the original April 11th deadline.  Register now to ensure you have a space!  Register here.
2014 Cooper Award:  The deadline for the Cooper Award has been extended until May 31st.  Students – this is a wonderful opportunity to help fund your travel to the 144th Annual AFS meeting.   Find out more about this award here
---
3/10/2014 – From the Aquatic Animal Drug Approval Drug Partnership Program:
(1) The March 2014 Issue of the AADAP Newsletter and the most recent edition of the AADAP Relevant Literature Master List are now available. As always, my thanks to those who contributed news, updates, and articles to the Newsletter.
AADAP Newsletter  Literature Master List
Daniel Carty
Fish Biologist
U.S. Fish and Wildlife Service
Aquatic Animal Drug Approval Partnership Program
4050 Bridger Canyon Road
Bozeman, MT 59715
phone: 406-994-9912
fax:406-582-0242
[email protected]<mailto:[email protected]>
website: http://fisheries.fws.gov/aadap/
---
3/10/2014 – Didymo and Aquatic Invasive Species – March 18

Getting excited about Opening Day? Ready to get out and recreate in and around your favorite stream? Come to an aquatic invasive species workshop on Tuesday, March 18 6:00 – 8:00 p.m. at the W.M. Tokishi Training Center on NYPUM Drive in Wellsboro PA.  You will learn about potential invasive intruders in the Northern Tier, how to identify invasive species of concern, and how to prevent the spread of these species through reporting and simple cleaning methods. This is especially important for users of Pine Creek, because an organism called didymo ("rock snot") was found in several locations in Pine Creek for the first time in 2013.  Didymo is not a significant human health risk, but it can negatively affect stream food webs and be a nuisance for angling and recreation.  It only takes a single cell or a drop of water to transfer it to another stream.
Cleaning stations will be provided to the first 30 participants. The workshop is sponsored by Trout Unlimited, Pine Creek Watershed Council, Pennsylvania Fish and Boat Commission, Susquehanna River Basin Commission and Pennsylvania Sea Grant. For more details, call Lori Maloney at 570-724-1801 x 113 or Katy Dunlap at (607) 703-0256.
For more information about didymo in Pine Creek and links to how to clean your gear, go to http://pinecreekwatershedrcp.org/proj-didymo.htm  For Facebook users, please visit us here for updates: www.facebook.com/PineCreekPA<http://www.facebook.com/PineCreekPA>
Please forward this email or the attached flyer.  No RSVP required but it would be helpful to know who is attending.  For those of you I have emailed previously, thanks for the numerous responses!
Lori Davias Maloney
Watershed Specialist
Tioga County Conservation District
50 Plaza Lane Wellsboro, PA 16901
570-724-1801 x 113
---
2/11/2014 – From the AFS Northeastern Division

Please consider nominating someone you think deserving of a Northeastern Division award.
The Division provides several awards recognizing excellence in professionalism/service. Four of these awards are administered by the Awards Committee: the Dwight A. Webster Memorial Award, the President's Award, the Meritorious Service Award, and the Special Achievement Award. The Dwight A. Webster Memorial Award has been presented annually since 1978.
The President's Award was established at the 1993 annual business meeting. The Meritorious Service Award and the Special Achievement Award are the newest Division Professional/Excellence Awards, with the first awards given out at the 2000 annual meeting.
Division Professional/Excellence Awards for 2014 will be presented at the 144th Annual AFS Meeting in Quebec City, PQ.
The strongest nominations typically include a resume of the nominee, a letter of nomination, and letters of support from employers, fisheries professionals, and AFS members and officers.
DWIGHT A. WEBSTER MEMORIAL AWARD
This award is presented annually and is the most prestigious recognition given by the Northeastern Division. It may be awarded for any of the following achievements:
1. Lifelong contributions to fisheries science and the profession in the Northeast or while working in the Northeast;
2. Meritorious/prestigious service to the profession and fisheries;
3. Significant academic or technical accomplishments; and
4. Long-term service in the Northeastern Division as an AFS member.
PRESIDENTS' AWARD
This award is presented to an individual who is selected by Past Presidents and the incumbent President; it is not limited to Past Presidents. The recipient need not be a current AFS member, and the award need not be presented annually. The award may be presented for any or all the following achievements:
1. Promotion of fisheries management;
2. Upheld ideals of professionalism; and
3. Dedication to AFS and employer.
MERITORIOUS SERVICE AWARD
This award is presented to an individual who must be an AFS member for any or all of the following:
1. Leadership and service to the profession and/or AFS;
2. Substantial achievements for AFS and the fisheries resource; and
3. Significant long-term service to the NE Division within the Division.
SPECIAL ACHIEVEMENT AWARD
This award recognizes an individual or group acting as a team or committee for any or all of the following special accomplishments:
1. Notable contribution(s) for conservation and/or the fisheries profession within the Northeastern Division; and
2. Administrative or project-related accomplishments.
The recipient(s) need not be an AFS member(s) and the award need not be presented annually.
To make a nomination for any of these awards, please send a resume of the nominee, a letter of nomination, and supporting letters by March 4, 2014 to:
Paul Perra
National Marine Fisheries Service
55 Great Republic Drive
Gloucester, MA 01930
---
2/11/2014 – Also From the AFS NED:

 Winter 2014 Fish Rapper: Call for Submissions
I hope you are having a wonderful and productive winter so far! We have an exciting year ahead in the fisheries world, including the national AFS meeting in our neck of the woods this August. I'm sorry about the delay with the latest edition of the Fish Rapper. We have had some issues with the AFS listserv that we are working on getting resolved. I'm looking for material from all of you for the next edition of the Fish Rapper. I want to hear about all of the awesome stuff you did in the second half of 2013, and what you are planning for 2014.   In particular, this is what I'm looking for:
Announcements (Workshops, outreach, symposia, etc.)
Upcoming Meetings
Chapter Subunit Updates (Very important! Officers take note!)
News (Any general news applies)
Research
Publications (Peer-reviewed or otherwise)
Pictures (This can be you doing work or having fun in the water, artwork, whatever!)
Please send submissions no later than February 24th!
Feel free to contact me if you have questions. Thank you in advance for your submissions! The Fish Rapper would be impossible without your contribution!
Megan Altenritter
University of Maine
School of Marine Sciences
5741 Libby Hall; Room 202
Orono, ME 04469
---
1/14/2014 – From the Association of Mid-Atlantic Aquatic Biologists (AMAAB):
2014 Association of Mid-Atlantic Aquatic Biologists Workshop
Cacapon State Park; Berkeley Springs, WV / March 27-28, 2014
The upcoming meeting and workshop of the Association of Mid-Atlantic Aquatic Biologists (AMAAB) will be held at the Cacapon Resort near Berkeley Springs, West Virginia, on March 27-28, 2014.
We are currently seeking presentations and posters.  What aquatic biology and water quality news do you have to share from your state since our last year's meeting?  Come and share.
Be sure to check the AMAAB website (www.amaab.org ) for more information on the 2014 meeting.
---
1/5/2014 – 2014 PA AFS Newsletter Feature: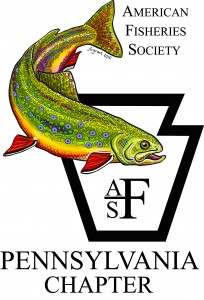 The chapter is excited to announce that it is promoting a new fisheries photo corner in its newsletter.  Bob Ventorini, newsletter editor extraordinaire, wants your pictures.  Send Bob your "Survey Photos", "Angler Photos", and "Student Research Photos" for possible feature in our next edition at [email protected].
---
1/5/2014 – From the Aquatic Animal Drug Approval Partnership Program (AADAP):
The December 2013 Issue of the AADAP Newsletter is now available.