The Tom Ridge Environmental Center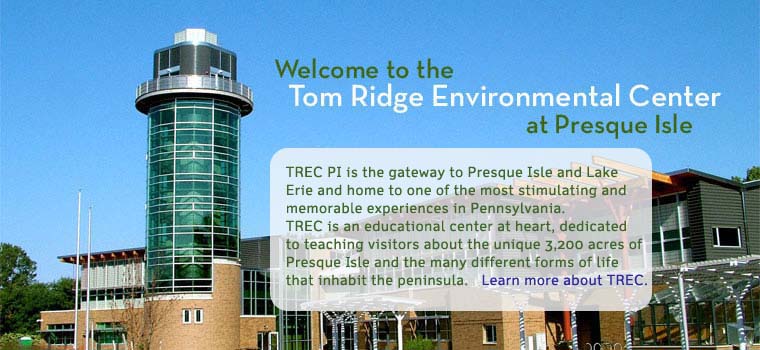 The Joint Meeting of the Pennsylvania and Ohio Chapters of the American Fisheries Society will be held at the the Tom Ridge Environmental Center (TREC). TREC is an educational center at heart, dedicated to teaching visitors about the unique 3,200 acres of Presque Isle and the many different forms of life that inhabit the peninsula.  TREC also serves as a center for research, contributing to conservation efforts and promoting environmental awareness, helping to preserve the unparalleled beauty of Presque Isle, the site of Pennsylvania's only seashore.  While some facilities along the Great Lakes offer environmental education and others do research, none offer research, education and visitor services in one place, making TREC a unique destination for learning, wonder and fun. We're open year-round and offer free admission to our interactive exhibits, glass-enclosed tower, and orientation movie. Learn about the history of Presque Isle and how you can contribute to keeping it pristine and beautiful.
---
The Avalon
A block of 75 rooms has been set aside at the Avalon Hotel and Conference Center. Reservations may be made by calling (toll free) 888-295- 4949. Mention the "American Fisheries Society" meeting to receive the reduced rate of $65.00 for a Superior King or Double room and $55.00 for a Deluxe Double room. This reduced rate is only valid until   February 18, 2015.
About the Avalon
Located in the heart of downtown Erie, our exquisite ballrooms & smaller private rooms will accommodate 20 to 1000 guests for showers, concerts, receptions, conventions, meetings & much more! Whether you are looking for a unique or traditional wedding, daily meetings with custom menus or overnight accommodations, the Avalon is the place to be.
Within just a few blocks of the hotel you can enjoy historic museums, attend an off Broadway show or concert, walk to a local sporting event or experience Erie's unique dining and night life!